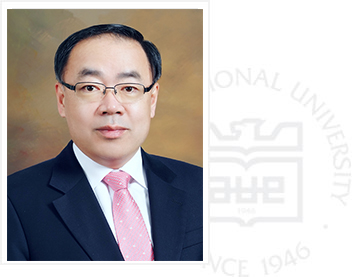 Graduate School Dean
Ganghui-Cho
Welcome to Pusan National University Graduate School.
Since its foundation on August 17th, 1953, the Graduate School of Pusan National University has continued to grow and now, in 2016, offers five professional graduate programs and seven special graduate programs that prepare students to meet the challenges of the future head on and rise to their full potential.
Established during a time of difficulty and adversity following the Korean War, Pusan University Graduate School was born out of a pure passion for the pursuit of knowledge and truth. Throughout its proud history, Pusan University Graduate School has educated highly qualified graduates who have gone out into the world and played a leading and pivotal role in a variety of fields, contributing greatly to the development and creativity of society as a whole.
Pusan National University Graduate School offers several main programs covering a variety of subjects ranging from the humanities—which aim to establish high moral values and philosophies through the study of the fundamental nature of mankind—to the social sciences, which focus heavily on pressing issues currently facing Korean society. Pusan National University Graduate School is also known for its natural science and engineering programs, which are dedicated, respectively, to the study of scientific laws through close observation and the application of said laws to modern life. Each of these academic programs, in its own right, is like a gem that sparkles in the crown of Pusan National University Graduate School, a prestigious institute funded by the state.
Each of the programs offered at Pusan National University Graduate School feature special lectures and research projects, led by international and domestic faculty. Programs not only include in-depth explanation and study of fundamental principles in related fields, but also include practical experiences in which students can actively apply what they have learned in the classroom. Each of these comprehensive courses awaits bright new students ready to take on the challenge.
Although Pusan National University Graduate School has a long proud history of producing some of the region's and nation's most influential leaders, we continue to strive for even greater success to become the top academic institution worldwide. In order to afford our students every advantage in increasingly competitive academic circles, we continue to acquire a great range of cutting-edge laboratory equipment, build state-of-the-art research facilities that meet high global academic standards, and operate cooperative programs with renowned scholars and research centers at prestigious universities worldwide.
None of these advancements, however, would be possible without the hard work and tireless efforts of the esteemed faculty of Pusan National University Graduate School. Over the years, these efforts have been highly recognized, and Pusan National University Graduate School has been ranked No. 1 nationwide among state-backed universities and has been selected as recipient school under the Brain Korea 21 Program, a large-scale national program providing support for graduate students.
In the future, we here at the Pusan National University Graduate School will continue to strive to create an even stronger academic foundation and support system for students in order to train the leaders of the future. We look forward to welcoming the bright, creative minds of the future class of Pusan National University Graduate School.